23 Aug 2016
Universal Balancing Machine for the Airforce Industry
SCHENCK RoTec India Limited (SRIL)'s is the manufacturer of Universal Balancing Machine for the Airforce.
The Universal Balancing Machine (Horizontal) is a premium quality machine operated with micro processor controlled instrument. It makes the process easy and provides new ways for precise balancing.
The Vertical Balancing Machine can be used for numerous purposes and the designing is done based on research, development, experience and customer feedback.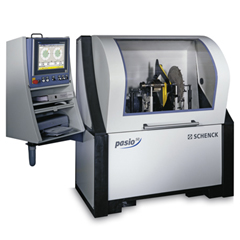 They're usually produced in series. The clamping adapter, the unbalance correction unit and the measuring instrumentation need adaptation to the balancing problem pointed. They can be used in the automobile industry, automotive supply industry, fractional horse power industry and tire mounting.
The tire mounting, inflation and balancing machines can be used for wheel production lines (BERBLR), mass centering machines for crank shaft (KBRZ), balancing machines for crankshaft (WBRK / SBRK) and Propeller Shafts (RBRQ).
SCHENCK makes the product according to the end-user requirements, needs and purposes. The products are created by the company's technical team who from time-to-time makes user-friendly and trustable machines.