15 Dec 2016
Illuminated Control Panels | Airforce Equipment
Paramount Panels UK's is a specialist manufacturer of man-machine interfaces, a lighting company, with almost 50yrs experience in the aerospace and defence industry. They're involved in the designing and manufacturing of information panels and even associated lighting components since the early 1950's.
Originally designed to fulfill the rigorous demands of the aerospace industry, Paramount Panels UK facia panels are now precisely for a wide range of other uses and environments where operational integrity and clarity of presentation are significant requirements.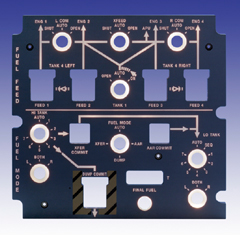 There are a wide range of illuminated panels mostly in accordance with the requirements of MIL-DTL- 7788G (previously SAE AS7788 or MIL-P-7788), type III. IV, V, VI and VII.
It even covers integrated indictors and annunciators, Caution Warning front panels, Military and aerospace integrated tactile keyboards, Panel assemblies, counting rear mounting plate, populated with hardware and electrical interfaces.
The company even covers all kinds of illuminated information panels presently used in the defence and civil market.