07 Dec 2016
Helicoil Inserts | Airforce Equipment
Noble Aerospace Private Limited's is a professionally managed company which offer HeliCoil Inserts for Airforce
HeliCoil Inserts are utilized for forming stronger internal threads in all metals, composites and light Metal Alloys. It creates long lasting durable threads, shuns thread over-sizing, enhancing the likelihood of higher torque application in weaker metals, considerably reducing the bolt breaking problems.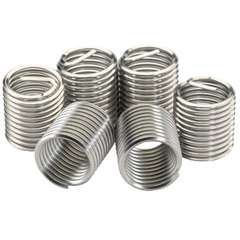 HeliCoil Wire Thread Inserts are available as Free Running Inserts and Screw Locking Inserts, in addition to the standard range of Helicoil available in 18-8 Grades of Stainless Steel like SS-304 as per AS7245 & DTD 734.
Specifications also available are HeliCoil inserts of Nimonic 90, Nitronic 60, Titanium alloys, Inconel X-750, Phosphorus Bronze, and a variety of other Space Age Metals. Additionally, the inserts are also made available with protective coatings like Cadmium Plating, Silver Plating, Dry Film Lubrication Coatings, Primer Free-Salt resistant Coatings, etc.
There are also Thread Repair Kits varieties like HeliCoil Professional Kits, HeliCoil Master Kits, HeliCoil After Market Kits, HeliCoil Insertion Tools, HeliCoil Thread Taps, HeliCoil Thread Plug Gauges, HeliCoil Extraction Tools, etc.