24 Jan 2017
TARANIS® Solution | Army Equipment
Elektroniksystem- Und Logistik-GmbH's (ESG) is one of the leading German companies for the development & integration of IT and electronics systems for public authorities and the defence and automotive industries. With 1600 employees, the company has its headquarters in Germany and it offices are spread across Europe and global.
The company's TARANIS® solution suite is specifically designed to offer network-enabled capabilities within both military and peace-keeping operations as well as for emergency services and crisis management.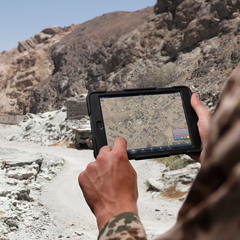 While, the TARANIS® theatre is a strategic command & control system for command authorities at home and overseas. It is designed for usage in fixed command centres. TARANIS® Battlefield, a highly flexible solution for battle management is used in mobile command posts and in military vehicles.
For dismounted forces, TARANIS® Soldier offers command & control capabilities as an extreme mobile application on smartphones and tablets.