16 Jan 2017
Mosquito Nets by KK Exports | Army Equipment
KK Exports's, a flagship company of the K. K. Group is a manufacturer of the advanced military & law enforcement equipments. It exports includes the Army, Police, Railways, Paramilitary forces, Navy and other government and foreign organizations.
KK Exports mosquito nets are of variety of sizes, mesh, denier and weight and they are even available as per the client's precise requirement. A wide range of quality fabric is utilized in order to manufacture these mosquito nets and some of them include cotton nets, flame retardant nets, polyester / nylon nets, insecticide treated nets (deltamethrin/peremethrine), and HDPE mosquito nets.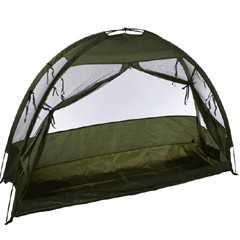 The company even sometimes adds skirting/reinforcement at the bottom of the net for additional strength on the word of clients requirement. Inbuilt research and development facilities are the secret instrument in producing quality & durable nets. They have a monthly production capacity of more than 2million nets annually.
The company has dedicatedly exceeding international quality standards and it can be seen in the production, processes and facilities which from time to time undergoes through rigorous tests at modern laboratories all over the world.