05 Dec 2016
Sea Rescue Craft | Naval Equipment
LeisureCat Australia's is the builder of High Speed Catamarans. It is the foremost Western Australian based company to design and build Fibre glass Powered Catamarans in Western Australia.
Sea Rescue Craft is also one of their products. It is an apparatus, method and system for saving persons and distressed vessels. The design is confirmed to be far superior and inflatable designs have been adopted.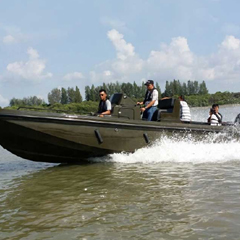 The practical requirements for emergency Sea Rescue Craft require precautions and to even safeguard the rescue craft safely on the deck of a ship when not using it. A water pressure release i.e. hydrostatic release unit is utilized and the attachment strap of the Sea Rescue Craft is attached to it.
Release of it is done by means of the hydrostatic release device and it comprises of a pair of propulsion units, symmetrically disposed; one each on each side and sat least one pair of pontoons.
It is even comprised of pivotable and hinged affixing means.  When manufactured by the US, it is of high quality and International standards are followed whilst manufacturing it.