08 Sep 2016
MV-4 Mine Clearance System | Naval Equipments
DOK-ING's is one among the international leaders which is in to designing and producing of the special remote-controlled systems for the Navy.
The MV-4 Mine Clearance System is a tracked, remote-controlled machine designed to clear all types of Anti-Personnel (AP) mines and UXO-s. It has small dimensions and maneuverability because of which itíll be apt for demining of forest paths, river banks, house yards, orchards, etc.
The machine is remotely controlled from a far distance and the engine and significant components of it are protected by steel plates. The clearing productivity of it is 2200 m≤ per hour.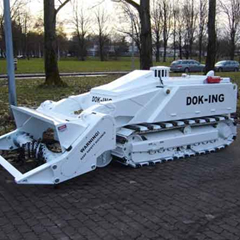 It is designed in way that it can withstand mine detonations. Along with clearance of Anti-Personnel mines, it can even counter even anti-tank mines during its operation. Its ability to withstand Anti-Tank mine detonations has been proved at the Swedish EOD and Demining Center (SWEDEC).
As it is controlled from an armored vehicle from a far distance, it has a record of saving demining personnel and third parties. Maintenance of this MV-4 Clearance System is simple. The parts which are damaged by the blasts can be easily replaced.