25 Oct 2016
MEDEVAC Strecher | Naval Equipment
NODIN Aviation AS is a Norwegian company which is specialized in developing modern MEDEVAC solutions for the Navy.
The MEDEVAC stretcher which is designed in accordance to EASA requirements is with telescopic handles and 5+2 point integrated patient harness.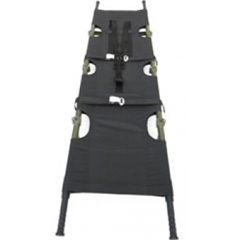 It is designed and tested in accordance with NATO STANAG 2040, NATO STANAG 3204, and applicable paragraphs in BS EN 1865. It has been designed with pinch-free hinges and has 6 ea 12 mm connecting holes for safe equipment to the stretcher. For avoiding unintentional collapse of stretcher during handling, the traverses are firmly locked.
With integrated 5+2 point harness, the patient is safe fastened during the transport and can be hoisted in vertically worst case.
It has telescopic handles retracted because of which the stretcher can fit in vehicles and helicopters with a length which is less than 2 meter. If four-folded it can be stored in a number of 36 units per cubic meter.