25 Nov 2016
Integrated Communications Control System (ICCS) | Naval Equipment
EID's is one of the most important high-tech companies in Portugal which designs, manufactures and supplies advanced, high-performance equipment and systems mainly for the global defence community.
It manufactures Integrated Communications Control System (ICCS) which provides secure, fast and reliable communications for any kind of warship i.e. be it from patrol boats and submarines to aircraft carriers. It is a modern system which is aimed at able control and management of the ship's overall communications, i.e.:
Internal & external communications,
Equipment remote control & real-time status monitoring,
Embedded Training facilities &
Gateway to the Combat Management System (CMS)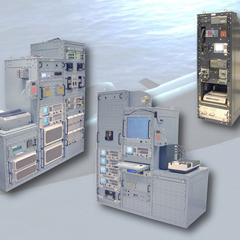 Based on the ship size and operational role, centralized or fully distributed versions can be chosen. The coordination and management of the ship's assets is vital to the success of naval actions.
Communications play a central role offering the way for exchanging and assembling information within a network-centric environment.
Above 100 EID systems were chosen by the respective navies: Australia, Brazil, Denmark, Lithuania, Malaysia, Netherlands, Portugal, Spain, United Kingdom and Uruguay.