14 Feb 2017
Highest Definition Infrared Surveillance System SPYNEL-X
HGH Infrared Systems's is a global manufacturer of infrared solutions for industrial, civil, defense and security applications.†It is the manufacturer of SPYNEL-X as well.
SPYNEL-X is the world's Highest Definition Infrared Surveillance System which captures the real time, full panoramic images with resolution of up to 120 MP it is the first Infrared Search & Track (IRST) with the excellent image quality and has longest detection range.
Equipped with Cyclopes, advanced threat detection software, it can carry out early target detection in large areas in any weather conditions. It even has a distinct passive wide-area surveillance system that brings extraordinary real-time security against the conventional and asymmetrical threats.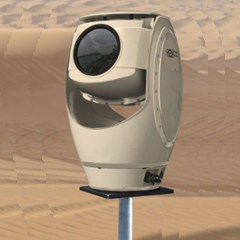 A single SPYNEL-X sensor can perform 24/7 early human intrusion alerts over a 16km-diameter area and even substitutes up to 90 HD MWIR cameras in a single sensor head.
It is the final solution for wide-area surveillance & critical infrastructure protection for FOBís, military bases, oil & gas infrastructures, airports, borders, etc.