04 Jan 2017
Accommodation Containers | Army Equipment
TREYSAN Prefabricated Steel Construction Industry's, a company within IC Holding was established in Ankara in the year 1975. Since its inception with its wide product range, TREYSAN is serving to the armies, construction companies, oil / gas sector companies, military organizations, and relief organizations by offering temporary and permanent prefabricated camp solutions.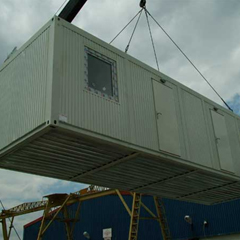 It is a manufacturer of Accommodation Containers which provide the product with pliable design and production, simple installation either in the factory or in the field. It can be carried in easy transportation and re-location.
It even offers single level or two-storey containers as compounds for a wide span building requirements together with the choice from packed shipping to on-site installation.
The company's container designs for varied applications include a range from accommodation quarters to GSM cabins and equipment containers accessible for set-up in any kind of environment. The equipment containers are also been designed for alteration into cold-storage units with the adding up of special panels as well.